Neighborhood Improvement Awards
Since its beginning, the Midtown Business Association has honored businesses that have gone the extra mile to improve the appearance of their property. The Neighborhood Improvement Award is presented two to four times a year in the form of a plaque and is done at our monthly luncheons.
Nearly 80 businesses in Midtown have received the award, and we continue to seek out worthy candidates. Businesses are selected based on both interior and exterior improvements. The improvements can be a new building, as in the case of Security National Bank, or it can be the restoration/renovation of an existing space.
On Sept. 22, 2021, the MBA presented its Neighborhood Improvement Award to representatives of Completely KIDS for their newly expanded facility at 2566 St Marys Ave.
 Past winners include:
The Kimpton Cottonwood Hotel for their work in revitalizing the 1920s landmark building at 302 S. 36 St.
City of Omaha Parks & Recreation Department for its renovation of Dewey Park,
Myrtle & Cypress Coffeehouse for its extensive restoration in Gifford Park,
Milestone Development for its renovation of the historic West Farnam Apartments (38th Street and Dewey Avenue),
Joslyn Castle for lighting the exterior grounds,
Dundee Bank for its dedication to maintaining the historic value of the building and bringing it back to life, and
Film Streams of Dundee Theater, which is a 501(c)3 nonprofit arts organization dedicated to enhancing the cultural environment of the Omaha-Council Bluffs area.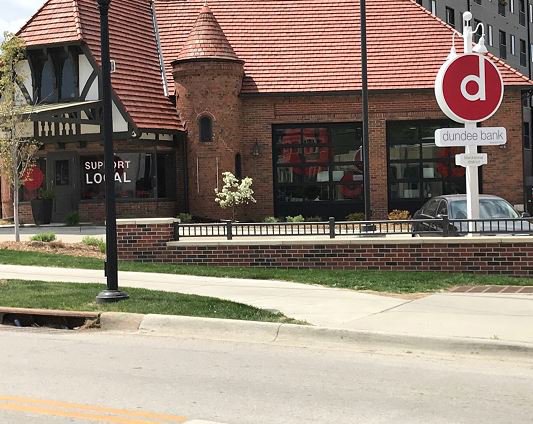 MBA Entrepreneurial Scholarship Award
The Entrepreneurial Scholarship Award is a new endeavor for Midtown Business Association. This is an in-house award offered to one of our members who is interested in strengthening his/her skills in business.
The scholarship award includes the following: A business member (non-profit or profit) selected by the MBA Board is eligible to receive a scholarship award to include a plaque/trophy and a package worth $370+ that includes the opportunity to complete a Gallup CliftonStrengths 34 (CS34) evaluation (includes electronic version of "StrengthsFinder 2.0" book), Gallup Builder Profile 10 (BP10) evaluation, "Born to Build" book with additional BP10 code, and two hours coaching by a Gallup-Certified Strengths Coach and Gallup Entrepreneur Strengths Coach. The member will then be able to use the information they learn in his/her place of business. For consideration, please complete the information below and submit for a board member to reach out to you.
Facade Improvement Grant  /  Community Support Grant
The MBA Facade Improvement Grant Program is available to assist business owners with improvement projects such as landscaping, new signage or other approved improvements. Grant awards are up to $1,000 which the business owner or tenant must be willing to contribute to the project. For more information on how to qualify, please view the Facade Improvement Grant brochure. 
The MBA Community Support Grant is available to assist community organizations and neighborhood associations with a community support grant of up to $500. Funds may be used to support programming for events and activities that are open to the public and reflect well on Midtown as an inclusive community. Online applications will be accepted each year during the months of September/October with final decisions/notifications made by December. The MBA Board may award up to four support grants each year.
For either of these grant opportunities, the business must be located within the MBA boundaries and be a current member of the MBA. For consideration, please complete/submit the information below and a board member will contact you with more information. 
FACADE IMPROVEMENT GRANT / COMMUNITY SUPPORT GRANT / ENTREPRENEURIAL SCHOLARSHIP APPLICATION
Interested in learning more? Get connected!